Markor v1.5 - Multiple windows, Markdown tasks, theming
Today marks the release of the Markor v1.5 update! The update is already available for download on GitHub and soon on F-Droid!
Multiple windows, keep screen on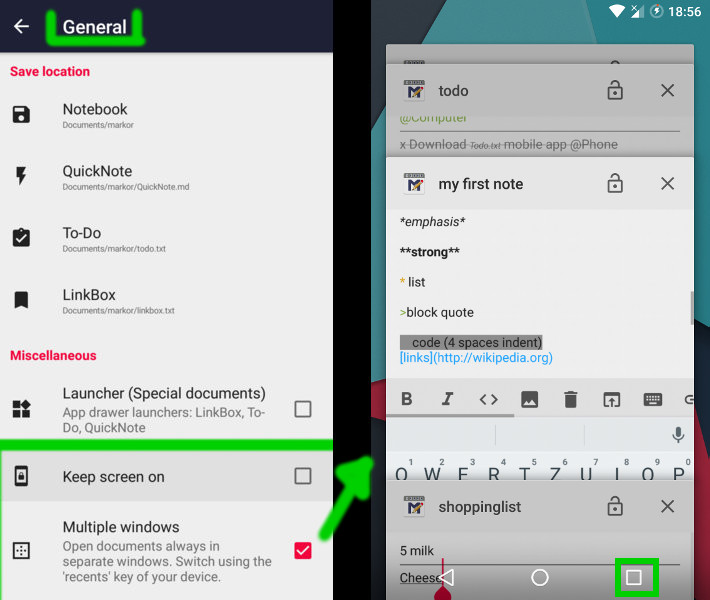 New general settings options arrived! You can find them under the following settings sections:
General -> Multiple windows: Open a separate window for each document! Easily switch between multiple documents to quickly get needed information! Each window is a full editor with separate editor settings and format selection. Requires Android 5 or higher, activated by default.
General -> Keep screen on: Do not turn off the screen automatically.

New Textactions

Markdown GFM tasks: Use the new task textaction to convert the current line to a task! If the line is already a task you toggle between done and todo.
Insert image: Add pictures to your document. Easy access to pictures from gallery and camera! You can also browse your drive! Optionally edit the picture with an installed graphics app.
Color picker: Add color to your texts! Choose between setting the forground or background color. You can also add only the hex color code. The newly added color picker is also used in new theming functionalities
Sort tasks: Try the new sort button for your todo list! Easy sort your todo alphabetically by selected order.
All new 'new file' dialog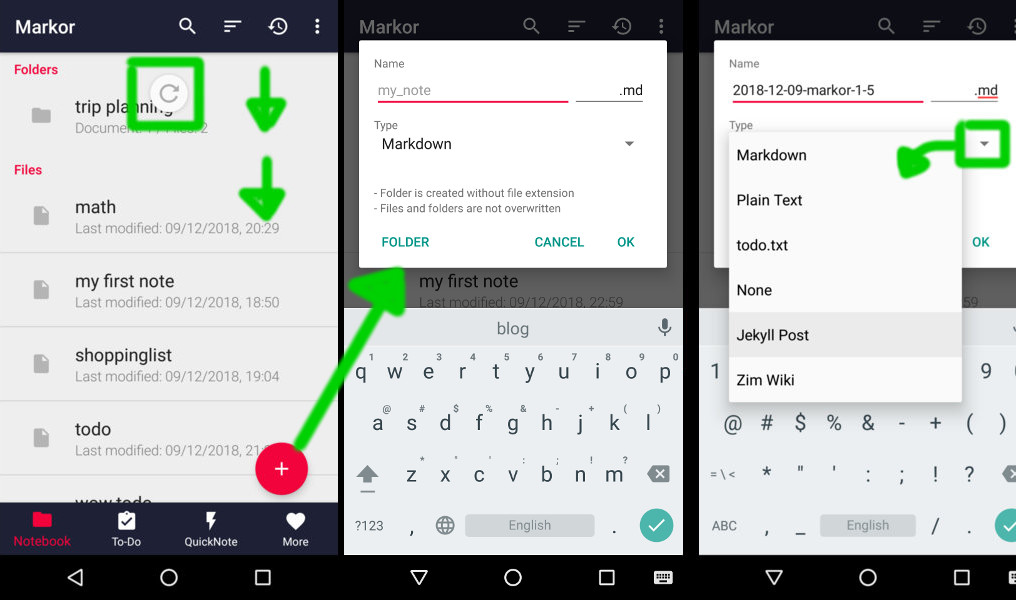 Create new file

Create new files now from the Notebook
Choose between filename presets. Want to write a Jekyll blog post? Markor has you covered.
Full customizeable filename and file extension.
Moved 'New folder' from the toolbar-dropdown aswell. Enter the foldername in the first (left) text line and press 'Folder' to create it. The right text line (extension) is not used in this case.
More features to be added…!
Notice: Removed file move / rename within text editor. Use the new dialog for new files, otherwise the rename option. Long press one document in the Notebook to get the Rename option in the toolbar!

Pull down to refresh:

Refresh list of documents by pulling down the list at 'Notebook'.
Replaces the 'refresh' action in the minimized toolbar section.
New theming options: Color scheme, Auto theme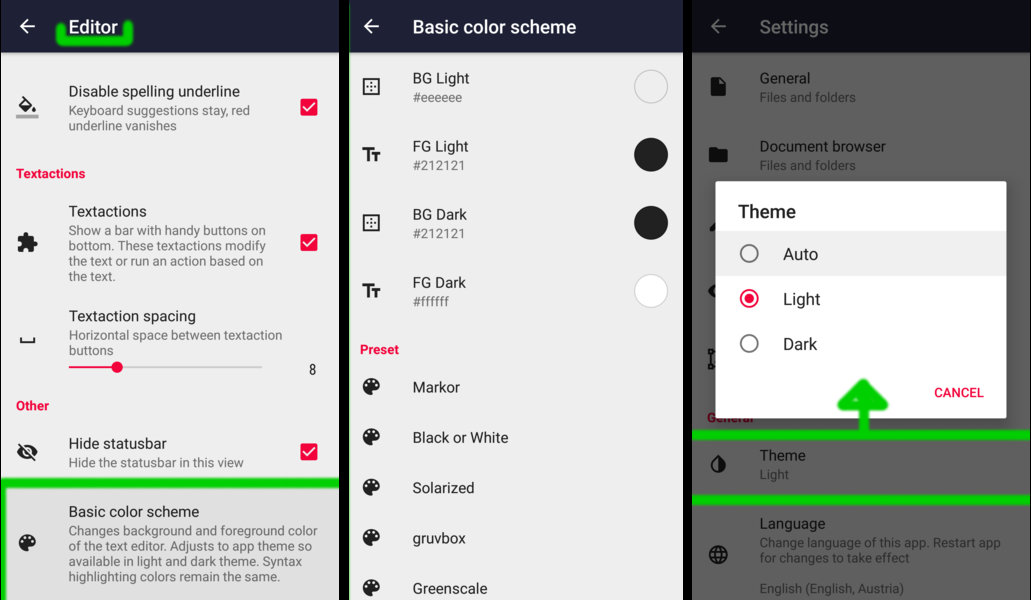 Editor -> Basic color scheme: Select between predefined colors or use your own. Change the default textcolor and the background color at the editor. You can always return to the defaults by selecting the Markor preset.
App theme: Use the new Auto option to automatically switch between themes based on the time of day. Always crisp at work and easy on eyes after work. New app installations use Auto as default.
Changelog
New features:
App-wide

Settings option: Keep screen on
Add popular documents to 'share into'
Add 'Auto' theme, switch light/dark theme by current hour
Support for Chrome Custom Tabs

Editor

Open multiple Windows
Settings options for editor background and foreground color
todo.txt: Highlight multiple levels of context/projects (@@/++)
Start document at the recent cursor position (jump to bottom on new documents and at special files)
Enable link highlighting in plaintext format (especially easier to distinguish title and links in linkbox)

Document browser

Completly new 'New file' dialog

Text Actions

Sort todo.txt files
Tasks support in Markdown
Add zero-width space character to 'special characters'
Add color picker
Markdown: Long press image adds img-src with max-height
Long press 'Special key' jumps to top/bottom
Long press 'Open external' opens content search
Don't list empty lines in simple search
Edit picture supports now relative filepaths too
Show import dialog for selected pictures too (like in file selection)
Improved:
Document browser

Replace 'Reload button' with pull down to refresh
Added 'Last modified' to File information dialog

Editor

Added greenscale basic editor colors
More space for document title
Harden automatic file naming and moving

Representation

Set inital background color before loading document
Math/KaTex: Show inline when single dollar is used
Enable block rendering for KaTex (math)
Performance improvement for TOC & Math - only use when text contains headers/math
Markdown: Underline h2 too (like h1, more common for two levels)
ToDo: Add alternative naming for contexts/projects

TextActions

Markdown: Multiline textaction for header/quote/list

App-wide

Natural scrolling in dialogs
Fixed:
Filesystem

Discard selection when leaving filesystem view
Project summary
Markor is a TextEditor for Android. This project aims to make an editor that is versatile, flexible, and lightweight. Markor utilizes simple markup formats like Markdown and todo.txt for note-taking and list management. Markor is versatile at working with text, it can also be used for keeping bookmarks, copying to clipboard, fast opening a link from text and lots of more. Created files are interoptable with any other plaintext software on any platform.Markor is using open formats and is free software, openly developed and accepts community contributions.