Markor v1.6 - DateTime dialog - Jekyll and KaTex improvements
Today marks the release of the Markor v1.6 update! The update is already available for download on GitHub and soon on F-Droid!
New TextAction: DateTime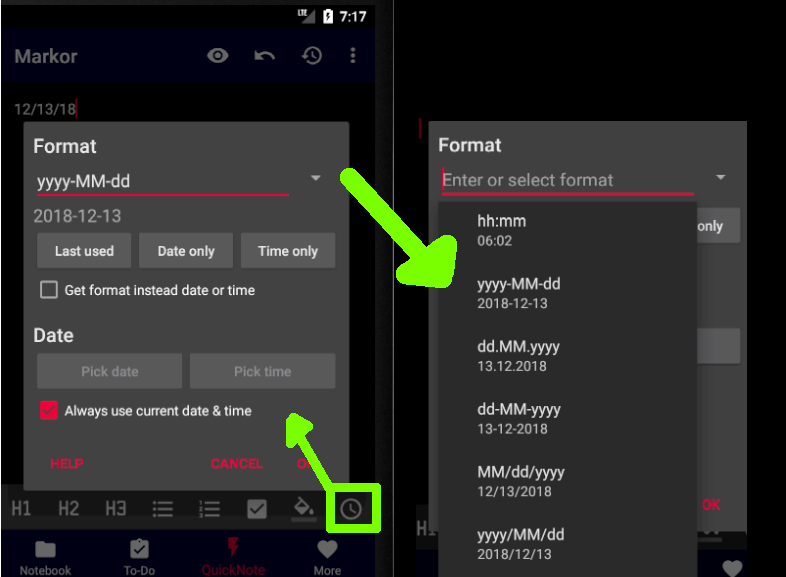 Insert date and/or time using the new action! You can freely pick date and time and choose in which format the information should be added. The current time is used when you press the "OK" button by default. (Note that you also can just insert the format, without date!)
Date only selects your country specific default format for Date
Time only selects your country specific default format for Time
Last used select the format you last inserted into text (=OK pressed)
Changelog
New features:
TextAction: Insert date/time
Add website title when sharing into Markor, if browser supports it

Website title + URL formatted in Markdown format if possible
Improved:
Automatically create ToDo/linkbox/QuickNote and parent folders when using respective launcher
KaTex/Math: Improve inline math
Close virtual keyboard after creating new file
Language selection: Load system's most important language as system hint
Markdown + Jekyll: Replace / with .. in representation
More padding at settings on older devices
Use the new file dialog for sharing into new documents
Filesystem dialog now shows images / textfiles only at respective file selection
Fixed:
New file dialog: Jekyll option on older devices
Title not updated when swiping
Project summary
Markor is a TextEditor for Android. This project aims to make an editor that is versatile, flexible, and lightweight. Markor utilizes simple markup formats like Markdown and todo.txt for note-taking and list management. Markor is versatile at working with text, it can also be used for keeping bookmarks, copying to clipboard, fast opening a link from text and lots of more. Created files are interoptable with any other plaintext software on any platform.Markor is using open formats and is free software, openly developed and accepts community contributions.