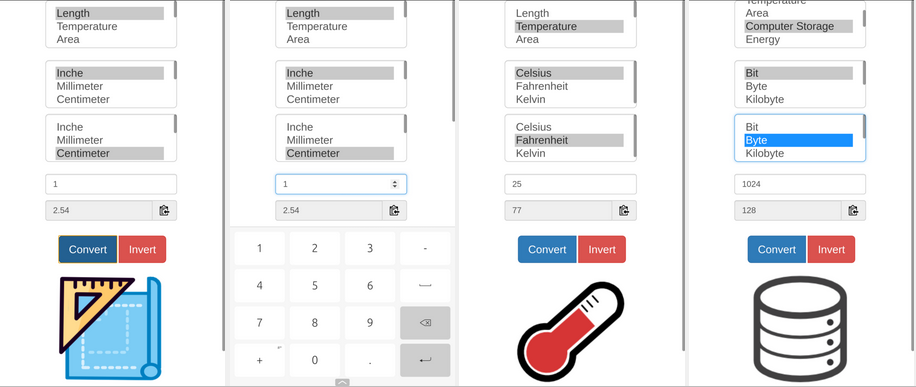 Simple Unit Converter project - 100% offline crossplatform unit converter for Ubuntu Touch
This project is a simple yet powerful Unit Converter.
I started on the project in early december 2019 to get 100% offline working crosstplaform apps running on a Ubuntu Touch / UBPorts phone and as a result uploaded the app to OpenStore.
Project description
A beautiful minimalistic, right to the point unit converter. Finding a simple unit converter that just works shouldn't be that that hard. That's the reason there is Simple Unit Converter.
Supports Weight, Length, Speed, Temperature, Area, Energy, Computer Storage, Time, Volume.
Enter the value to be converted on the top and get the result on bottom. Press enter or the Convert button to convert.
The utility is working 100% offline, does only load bundled files - files are not loaded over network. Also no ads or other bloat, just the app and nothing else.
Screenshots
Project links
– Please share this post & project in social networks and on UBPorts!
– Posted on Mastodon, diaspora*
– Download from OpenStore
– Source Code (GitHub)
License
The app itself is MIT licensed, with it's source code being available here, fork of ricardofabila. My fork for Ubuntu touch has been changed to improve usability for mobile usage. These libraries are used: AngularJS, clipboard.js, Bootstrap, jQuery (license info also available from GitHub)
Goal of the Ubuntu Touch blog post series
This is a post about apps and games in the series of Ubuntu Touch blog posts. I got a Nexus 5 smartphone around and want to contribute to the Ubuntu Touch / UBPorts project which goals are a community-first linux mobile operating system.
Currently I'm looking for existing open source projects of all kinds and try to make them run on Ubuntu Touch. So there is something available for everyone :) As with other failed projects, if there are no apps in stores there are no users… and if there are no users no dev is willing to put time into the platform :D. My aim is to get stuff into store that works for everybody and offline.
– Quote from UBPorts community chat about the intention
Another goal is that projects are as non Ubuntu Touch specific as possible. The idea is to support other upcoming mobile operating systems & software projects like Plasma Mobile in the future.
Other recent posts in the Ubuntu Touch series: